Michele Robert, RN
Michele Robert is a New Orleans native and has been a Registered Nurse for 25 years. Michele attended Louisiana State University majoring in Microbiology and received her BSN from LSUHSC. She continued her education at California State Fullerton/Saddleback College in the ADN Program receiving a certification in Emergency Room Nursing. Since 2009 Michele has served as the President of the Alzheimer's Association's Advisory Board. Michele is a member of National Association of Professional Women.
---
---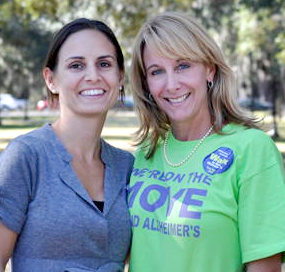 Judy Robert and Michele Robert at the Alzheimer's walk.
Michele has been awarded:
New Orleans City Business Healthcare Hero 2014
Outstanding RN Community Award December 2013
Spirit Award for the Greater New Orleans Alzheimer's Association 2013
New Orleans City Business Women 2012
---
Spirit Award for the Greater New Orleans Alzheimer's Association 2011
Louisiana Great 100 Nurses 2010
National Leadership Award for Small Businesses 2008
Judy Tujague Robert, RN
Judy Tujague Robert is a New Orleans native and Registered Nurse. She graduated with a Bachelor of Science degree in Nursing from Texas Christian University in Fort Worth, Texas. In addition to over 14 years specializing in senior care, she has 5 years of experience in emergency care having worked in a multitude of emergency room settings, including level I trauma center Charity Hospital in New Orleans. Judy volunteers at the annual Walk to End Alzheimer's fundraiser. Judy is intimately involved with the supervision of staff and care of residents and remains in constant communication with resident's family members.
---